The Film Office follows all Syracuse University and Onondaga County public health guidelines. To help keep our community safe, we are not currently scheduling any filming on our campus.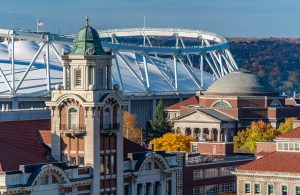 Interested in a filming location on the Syracuse University campus or University-owned property for your upcoming production? The Campus Filming Office is part of the Office of Government and Community Relations and coordinates all aspects of commercial filming and photography for the University.
Syracuse University is situated on a picturesque 270-acre main campus in Central New York and offers a variety of interior and exterior locations including libraries, auditoria, athletic facilities, and green spaces. Our diverse landscapes and eclectic architecture express their beauty during all four seasons.
For more complete information on the scope of services and support provided by the Campus Filming Office, read the Campus Filming Office Procedures.  For a copy of the Filming, Videotaping, and Photography Application form, please email Sid Bhattacharya.
The Campus Filming Office is not affiliated with the S.I. Newhouse School of Public Communications or the College of Visual and Performing Arts.
Contact
Sid Bhattacharya
Associate Vice President, Marketing Strategy
Division of Marketing and Communications
350 W. Fayette Street, Syracuse, NY 13202
M 315.416.6355