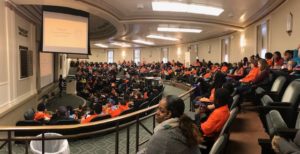 Shadow Day will mark its 22nd anniversary at the University on Friday, April 3, when about 90 fifth-grade students from the Syracuse City School District's Seymour Dual Language Academy visit campus for the day. The event will be run under the auspices of Community Engagement once again this year.
"Shadow Day is a key event for the fifth grade at Seymour School," says Bea González, vice president for community engagement. "It has become a tradition that the students look forward to as they reach grade 5. The SU students see Shadow Day as an opportunity to give back to their community and pay it forward. That is certainly true for me as an alum of Seymour."
González says that after meeting with Thomas Rosaschi, the event's coordinator at Seymour, they modeled a campus visit for the students. The day will start out with a welcome reception where the Seymour students will meet University students and get breakfast.  The Admissions Office will make a presentation, which will be followed by a group photo.
The next couple of hours will be spent touring campus or visiting academic classes. As time allows, the students will visit the following places:
Schine Student Center Bookstore
Bird Library and/or Carnegie Library
Hendricks Chapel
Crouse College
Hall of Languages
After lunch, the students will be taken by bus to Manley Field House, the Carmelo Anthony Center, the Iocolano-Petty Football Complex, and the Ensley Athletic Center, where they will get a tour of the facilities and meet Otto and student athletes.
González says that the day's activities have changed a little bit over the years, but at its core it has always been about providing the Seymour students with the opportunity to see themselves as college students. "We introduce them to our own undergraduates, many with similar backgrounds, and remind them that they too can attend Syracuse or any other university, especially since the University has given the promise of tuition support via the Say Yes program," she says.