Syracuse University is committed to supporting the Central New York community as it responds to the COVID-19 health emergency. Faculty, staff and students are looking for ways to get involved and often are also being asked by others how the University can help.
To that end, we have formalized a process to receive, prioritize and coordinate COVID-19 community assistance initiatives across the University. If you have an idea or would like to offer assistance to the community—or if you have been approached by a community member, organization or a governmental entity for assistance—please let us know by completing this newly created form.
In response, a member of the Community Engagement team will follow up with you directly to discuss your idea, offer or request.
For the official source of all information regarding the novel coronavirus for the Syracuse  University community click here.  For updates and community messages click here.
Vice President Biden brings campaign to end campus sexual assault to Syracuse University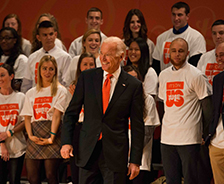 Vice President Joseph R. Biden Jr. L'68 visited campus on Nov. 12, 2015, as part of the White House's "It's On Us" campaign and its National Week of Action to deliver a message about ending sexual assault.
See photos and a video of the visit on the Syracuse University News website.
Biden gave a an impassioned speech to students and other members of the University community to join with the campaign to combat sexual assault across university and college campuses nationwide.
The event also featured remarks by survivors of sexual assault, student leaders, Chancellor Kent Syverud, U.S. Rep. John Katko G'88 and U.S. Sen. Kirsten Gillibrand.
The Syracuse University Marching Band and student a cappella groups performed for the audience.
Governor Cuomo brings Enough is Enough campaign to Syracuse University
Gov. Andrew M. Cuomo brought the Enough Is Enough campaign to Syracuse University to announce that a number of private colleges and universities from across the state are joining the initiative. The statewide campaign is pushing for passage of the governor's legislation combating sexual assault on college and university campuses. The private schools joining the campaign today are the first in the state to support the governor's policy, which would require all colleges and universities in New York to implement uniform sexual assault prevention and response protocols, previously adopted by the State University of New York. The governor was joined by Syracuse University Chancellor Kent Syverud and a Syracuse University student survivor of sexual assault to make the announcement.
See the SU News video here.
In January, Gov. Cuomo announced legislation codifying his sexual assault prevention and response policy—adopted by SUNY at his direction last year—and applying its provisions to all colleges and universities, public and private, in New York State. By extending the SUNY policy to all colleges, New York's students will be better protected with comprehensive, uniform procedures and guidelines, including affirmative consent and access to law enforcement.
U.S. Senator Valesky visits Aging Studies Institute
New York State Senator Dave Valesky toured Syracuse University's Aging Studies Institute (ASI) on November 13th. Senator Valesky was the chair of the Senate Committee on Aging.
Pictured (L to R) are Diana Napolitano, Assistant Director of Government Relations at Syracuse University's Office of Government and Community Relations, Janet Wilmoth and Doug Wolf of the Aging Studies Institute, Senator Valesky, Jessica Joyce of Senator Valesky's office, and Eric Persons, Associate Vice President of Government and Community Relations at Syracuse University.
ASI is a collaborative initiative of the Maxwell School of Citizenship & Public Affairs and the David B. Falk School of Sport and Human Dynamics.  Its mission is to coordinate and promote aging-related research, training, and outreach at Syracuse University. With 40 faculty affiliates from more than a dozen departments, ASI provides multi-disciplinary research and education that is relevant to almost every academic discipline on campus.
U.S. Labor Secretary Perez visits Syracuse
U.S. Secretary of Labor Thomas Perez visited Syracuse University on Feb. 19.  His campus stop and tour of the Syracuse Center of Excellence in Environmental and Energy Systems (SyracuseCoE) was part of a visit to Central New York's Fulton Companies to announce details of a $150 million grant competition for workforce training programs.  Secretary Perez made the grant announcement from the Pulaski, N.Y., headquarters of the Fulton Companies, a global manufacturer of industrial and commercial heating systems. Thanks in part to federal funding from the multi-agency Advanced Manufacturing Jobs and Innovation Accelerator Challenge, Fulton developed training partnerships with the State University of New York College of Environmental Science and Forestry, the Manufacturers Association of Central New York, and the Syracuse Center of Excellence in Environmental and Energy Systems. Together, they were able to develop the local workforce Fulton needed to expand the manufacturing capacity of their Pulaski plant to better serve the North American and overseas markets.
U.S. Senator Gillibrand awards grant for SU veteran program
U.S. Sen. Kirsten Gillibrand announced a federal grant worth $1.3 million for Syracuse University to strengthen entrepreneurship opportunities for women veterans. The federal investment will be used by the Institute for Veterans and Military Families (IVMF) at Syracuse University and comes from the U.S. Small Business Administration's (SBA) Women Veterans Igniting the Spirit of Entrepreneurship (V-WISE) program.  For the full announcement, visit SU News.
Student Aid Advocacy Day in Albany
Each February, the Office of Government and Community Relations (GCR) travels to Albany with  students to advocate for student aid. SU students join students, faculty and staff from New York State independent (private, not-for-profit) and public colleges and universities and opportunity programs (HEOP; STEP/C-STEP; LLP); along with administrators and advocates, and legislators and higher education policymakers to reinforce the value of state stud